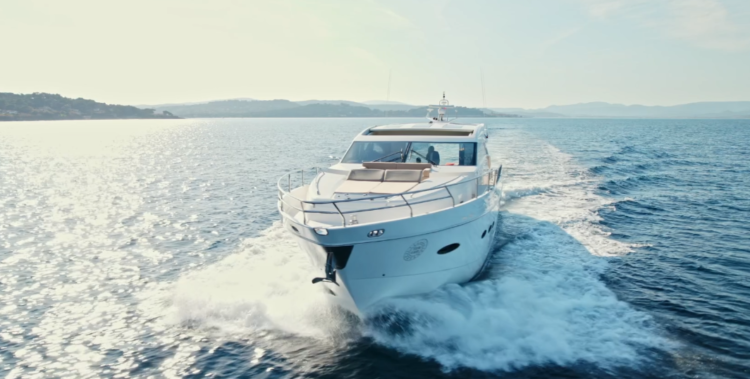 I have rented a yacht for the day in Saint-Tropez
If you like glamorous places, you are going to be amazed by the French Riviera beauty. Indeed, Saint-Tropez is one of the best French places to visit. In this article, I am going to take you on a day in Saint-Tropez's sea, on a yacht, as if you were here.
I was looking for something to do in Saint-Tropez 
Here is a list of the most popular activities to do in Saint-Tropez :
Enjoy sun and beaches: at Saint-Tropez, many people choose to sunbathe, while looking at the turquoise sea water. Indeed, the Mediterranean weather is perfect for that.
Gastronomic tourism: when you are visiting Saint-Tropez, you need to try the famous restaurants! They served typical southern cuisine!
Shopping: Saint-Tropez is one of the most famous places for shopping, on the French Riviera. This is a fashion and haute couture paradise. You can find many prestigious brands, but also original pieces from niche brands and independent stylists.
I have been advised to rent a yacht for the day
Thousands of people came every summer to Saint-Tropez, to see and be seen. However, once you have been to the beach, done shopping and visited the local market, you need to find something else to do. Therefore, you need to go further and explore Saint-Tropez's surroundings, to stay entertained.
Do you want to know the key to a funny and interesting trip? Rent a private yacht in Saint-Tropez ! This will allow you to spend a magical day. You will be able to see Saint-Tropez's beautiful landscapes on a really good day. Also, if you rent a boat, you can do all the nautical activities, such as water skiing for example.
A friend of mine had told me about her experience with the Suncap company. She had spent the most perfect day, with a lovely team that was very professional. Thanks to her recommendation, I choose the same company for my day.
 Many choices between different boats
To rent a boat, there are several things to take into account. For example, the number of people, the itinerary, and the type of activities you want to go for. Therefore, different types of boats are available to rent. You need to look at every boat available and understand the different features, in order to pick the better one.
Sailing boats: They are the cheaper option you can get. They have a capacity of 12 people on board. Sailing boats are made to sail, therefore they tend to move offshore, to reach deeper water. If you do not like engine noise and that you have a little budget, the sailing boat is the best option for you.
Motorboats: They are longer than sailing boats and can have up to 4 floors. They have many cabins and a large living area. They are made for cruising near the shore and staying near the beach. A motorboat has a maximum capacity of 48 people.
Catamarans: They are real little floating houses. Catamarans are the perfect combination of motorboats and sailing boats. They provide the best experience and are perfectly steady. Moreover, they have many cabins and a maximum capacity of more than 100 people.
Renting a boat is less expensive than I thought
You need to know that if you want to rent a boat in Saint-Tropez, you will have to pay the price for it. However, I have been really surprised to discover that prices are not as expensive as I thought they would be. Indeed, we often look at Hollywood stars' boats whereas it exists cheaper ones.
Also, compared to the price you will buy, renting a boat is not that expensive. Moreover, the fuel price can be included in the rental price, which is very economical. Thanks to this, you can rent a boat for the day, for 250 euros. Obviously, prices may increase, according to the type of yacht you will pick.
I have chosen to take a skipper
No matter your skill level in terms of sailing, it is always a great thing to ask for a skipper. The skipper dealt with all the details on board. Thanks to him, you will fully enjoy your day. The skipper is in charge of the boat, he commands everything and is responsible for security.
His role is to assure that his clients and having the best day while being safe. He is in charge of the sailing and crew's organisation.
If you decide to hire a skipper, you will have an easy mind if something wrong happens. Moreover, his experience of cruising can help you choose the best route to follow. Even if the skipper makes the manoeuvres, you can still help him.
 Discover exceptional places, away from the crowd
One of the advantages of renting a boat is that you can get away from the busy beaches whenever you want. You can choose to go to exceptional places, normally hard to get to.
Your skipper will get you to the best places, according to the weather and the time of the year. You will be able to get away from Saint-Tropez's crowd and explore the Mediterranean shores.
 My destinations list has to expend
The best way to enjoy Saint-Tropez's incredible beaches and se ais to go on a boat trip. You can go to all the seaside resorts near Saint-Tropez. If you swing by Saint-Honorat island, you should go to the abbey.
If you want to visit the famous seaside cemetery, the boat is the easiest and fastest way to do it. Meanwhile, you would be able to look at the view of Saint-Tropez's gulf and the Canebiers' bay. All these amazing spots are difficult to access without taking a boat.
Thanks to this yacht, I can adapt my vacations, according to my desires
Not only you will discover beautiful places, but also you will be flexible. Indeed, you will choose the time you want to leave and come back.
If you want privacy, you could weigh anchor and get away from the crowd. Moreover, if you decide to rent a boat, you are the only one choosing where and when you are going. You are only dependent on the weather.
Thanks to the boat I can try water sports
A cruise in a motorboat will enable you to try water sports. These types of sports are difficult to do in another context, so this is the right moment to try.
The French Riviera has 300 suns per year, kilometres of seafront and beautiful islands. Thanks to all this, the French Riviera is considered one of the best destinations to go to. Indeed, it seems like the perfect place to do water sports.
Depending on the type of water sports you want to go for, you can go to different spots if you are renting a motorboat. There is a wide variety of activities, such as free diving, water skiing, and jet-ski. So, you will for sure find one that suits you.
Rent a yacht to share the moment with friends and family
Avez-vous pensé à un yacht charter pour organiser un événement ? Un événement bien organisé sur un yacht est un événement que vos invités n'oublieront jamais. C'est un moyen imbattable de renforcer les liens, qu'ils soient professionnels ou familiaux. Alors qu'attendez-vous, louez un yacht dès vos prochaines vacances.
The best moments are the ones shared with friends and family. Unless you are looking for a private and peaceful moment for yourself, you can take your loved ones on a boat trip!
Indeed, renting a boat is a great way to spend time with your loved ones, away from the crowd. You will be able to enjoy the peaceful Mediterranean Sea and spend quality time together.
 I have spent the most magical day
Every year, the international jet set is reunited at Saint-Tropez seaside resort. If you like sea adventures, you have to rent a boat in Saint-Tropez. You can rent it for a day, and it is the best way to make great memories that will last a lifetime.
This experience is incredible and I loved it! I can assure you that you will have the best time, and make the best photos of all summer.
And you, what would you choose between a motorboat, a sailing boat or a catamaran? No matter which one you pick, you will have a great time!