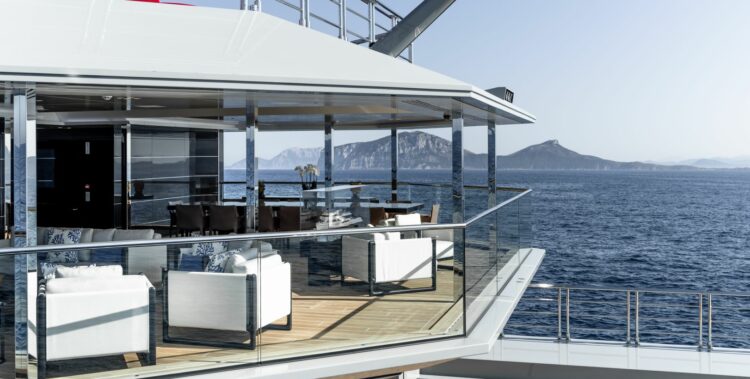 Our decoration tips to turn a yacht into a floating palace
A yacht is a private getaway on the seas, away from the hustle and bustle of crowded cities. Yachts come in many shapes and sizes, but they have one thing in common: luxury.
Successful luxury yacht design is a subtle blend of functionality, design, quality materials and choice of colour and light. It is the result of careful planning and constant attention to detail to create an elegant and sophisticated interior that impresses passengers.
Discover the secrets of luxury yacht design. Learn how to combine functionality and design, how to choose materials and colours to create an elegant atmosphere, as well as current trends in decoration.
Key elements for a harmonious decoration of a luxury yacht
To achieve a luxurious, distinguished and refined interior, it is important to consider the whole space and think about the overall experience you want to have on the yacht. There are several factors to keep in mind for a harmonious luxury yacht interior design. These include:
Available space;
Functionality;
Safety; and
Style;
Materials used.
It is important to consider the size and shape of the space available for decoration. It should be adapted to maximise the use of the space while creating a comfortable and functional environment.
Also, luxury yacht interior design should be both beautiful and functional. Furniture, appliances and accessories should be chosen according to their usefulness on board, to meet the needs of each space. On the Sabrina Monte Carlo website, you'll find everything you need in the way of luxury decoration to dress up your yacht's space just right.
Safety is also paramount on a luxury yacht, and decoration should be adapted to the navigation and movement of the boat. The style should reflect the lifestyle and taste of the yacht owner, and be in harmony with the lines and materials of the hull for a unique and elegant look.
How do you find the perfect style to decorate a luxury yacht?
The interior design of a luxury yacht is an art in itself, as it must combine style, functionality and comfort to create an elegant and practical interior. When it comes to decorating a luxury yacht, it is important to find the perfect design that reflects the owner's personal style and taste while being in harmony with the architecture of the boat.
Several elements help in finding the perfect style for a luxury yacht, including
Research on the net, trade magazines, boat shows, etc.;
Consulting professionals;
Setting a budget;
Considering the architecture and design of the yacht;
Choosing materials and colours;
Selecting furniture and accessories;
Creating a consistent theme to unify the look of the yacht's interior.
Inspiring ideas for timeless and refined luxury yacht design
Wheter you buy or  rent a boat, the decoration of a timeless and refined luxury yacht should be elegant, chic and comfortable. Here are some inspiring ideas.
Integrating structural elements
Incorporating structural elements into the design of a luxury yacht can add a touch of character and personality while creating an elegant and sophisticated atmosphere. Here are some ideas for incorporating structural elements into the décor:
Wooden or metal beams can be displayed to add a special touch to the interior;
Stairs can be turned into decorative elements by adding floor mats, stainless steel or polished brass railings, etc;
Windows can be dressed with silk or linen curtains to add texture and colour;
Wooden or metal blinds can also be used to create a more industrial look.
Channeling natural light
Channeling natural light in a luxury yacht can help create a bright, airy and welcoming atmosphere. Here are some ideas for channelling natural light into the design of a luxury yacht:
Panoramic windows allow natural light to enter the yacht and provide a spectacular view of the exterior;
The use of lightweight fabrics allows natural light to filter through the windows and create a soft, airy atmosphere inside;
The use of translucent materials allows natural light to penetrate while maintaining privacy;
Mirrors can be used in a luxury yacht to reflect natural light and create an enlarged space.
Working with irregularly shaped rooms
Working with irregularly shaped pieces can be an opportunity to create a unique and interesting design. Here are some ideas:
Use irregularly shaped pieces with consistent colours and textures to link the different elements of the room;
Create built-in storage by using custom shelving and cabinets to maximize storage space;
Custom furniture is a great way to work with irregularly shaped rooms. A bespoke sofa or coffee table can be made to fit perfectly into the space available;
Use rugs and cushions of different sizes and shapes to create a cosy, comfortable atmosphere and to define spaces in an irregularly shaped room.
Using neutral colour palettes
Neutral colour palettes are often used when decorating a luxury yacht. White, beige, grey and taupe can help create a neutral base on which to add bolder, more colourful design elements.
Neutral colours also bring a sense of calm and serenity to the interior of the yacht, which can be very welcome on long sea cruises. Here are some ideas for working with a neutral colour palette:
Rather than choosing a single neutral colour, different shades of the same colour can be used to create a cohesive colour palette;
Use bright colours such as navy blue, dark red or emerald green to add some punch to the neutral colour palette;
Use textured fabrics such as wool, leather or silk to add depth to the colour palette.
Custom lighting for a luxury yacht
Custom lighting can be a key element in the decoration of a luxury yacht. Here are some ideas for your yacht:
Use dimmers to control the intensity of light in different areas of the yacht;
Use LED lights which are available in a variety of colours and styles to suit all moods;
Spotlights can be used to highlight artwork or specific areas of the yacht;
Indirect lighting, such as wall lights, can add depth and texture to your yacht's décor;
Use designer lights and chandeliers to enhance your luxury yacht.
High gloss finishes add depth to luxury yacht design
Finishes are a crucial element in the decoration of a luxury yacht, as they can make all the difference in terms of appearance. Here are some ideas for finishes in luxury yacht design.
Using luxury accessories
Using luxury accessories to decorate a yacht can add a touch of sophistication and glamour to the interior. Here are some ideas for luxury accessories:
Silk or velvet cushions with elegant embroidery or designs;
Wool or silk rugs;
Crystal or hand-blown glass candlesticks;
Fine porcelain, silver or crystal vases;
Bronze or marble sculptures that add an artistic and elegant touch;
Decorative mirrors with gold, silver or exotic wood frames;
Crystal or silver table accessories, such as trays, champagne glasses, whisky decanters and silver cutlery.
Use high quality materials
Luxury yachts are often equipped with luxury materials, such as exotic wood, marble or stainless steel. The use of these materials for the finishes creates a luxurious and elegant atmosphere.
Opt for high-gloss finishes
High-gloss finishes can add depth and texture to a luxury yacht's décor. Mirror finishes, such as chrome or brass, are very popular in luxury yachts, as they reflect natural light and add a touch of glamour.