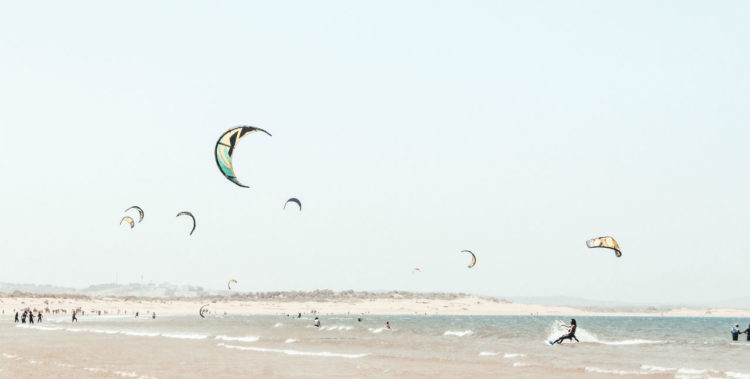 How can you learn to kitesurf?
Kitesurfing is becoming an increasingly popular seaside activity. And for good reason, the activity only requires a bit of physical strength and is therefore accessible to a wide range of people. It does, however, require learning the correct techniques in order to not only enjoy it, but to also move about safely in the water.
Finding a suitable place for the activity
Kitesurfing isn't something you can do just anywhere. This surfboard attached to a kite-type wing is not motorized. You must therefore be in a windy place to participate in this activity. Knowing how to go out in a wind that's suitable to the sport, which must be constant without being too strong or too fast, is important. The sea must also be taken into account. It should be shallow, but not so much so that you risk hitting the bottom or hitting rocks if you fall. You'll be going rather fast, so it goes without saying that there should be no rocks close to the water's surface which could injure you.
Among the best spots in the world are Mexico, Spain and Polynesia. But you don't need to go that far for your first outings. There are great spots all over France where you can indulge in this sport.
To find a good place to kitesurf, THE spot, you can simply rely on one or more schools which will offer you the most suitable beaches for this sport.
Booking classes
To start off on the right foot with this sport, there's no better way than to take kitesurfing classes, particularly private lessons. The instructor will explain the theory before getting you out there to try it. Sailing with a kitesurf kite is not done without theoretical preparation. You must:
Understand wind direction
Master gliding techniques
Move about safely for the sake of yourself and others
Identify the appropriate areas
All of this is necessary before moving on to the thrill of your first jumps. Taking lessons is therefore essential for a correct introduction to this sport. Beginners will feel confident and your technique will improve with your trips out to the water. The democratization of kitesurfing makes it easy to find courses in a water sports centre.
Knowing how to equip yourself
Once you've taken your first lessons (during which you'll be lent the equipment), it's time to get your own.
Board
Sail
Safety harness
Helmet
Wetsuit
You'll need some good equipment. If it's too much of an investment for a new one, don't hesitate to buy second-handed. You can find it easily. If you go this way, check the quality and condition of the safety components. Performing jumps while kitesurfing can cause injury upon landing if you don't have the proper equipment. The Flymaax site is perfect for your future thrills…and falls.
So be sure to take steps in the correct order: by taking classes where safety is the key word, you can fully immerse yourself in your new passion.