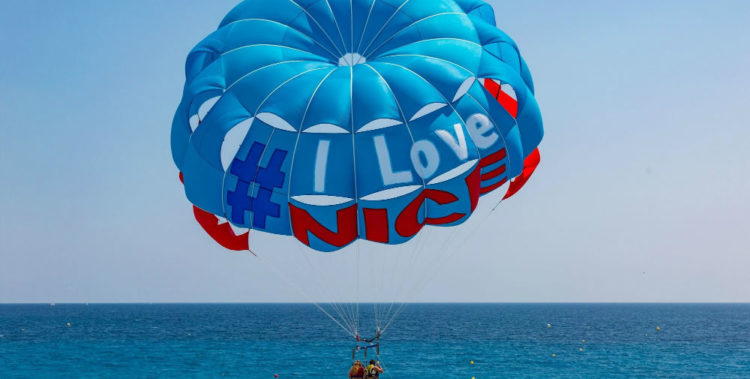 Trying a new adventure : Parasailing in Nice
Holidays in Nice are full of surprises these days. There is plenty to see and do, but visitors are always looking for something new and exciting. One of the latest activities that's causing a real buzz is parasailing. It's an unforgettable experience, and there are at least four reasons why you really should try parasailing when you are in Nice.

What exactly is parasailing?
Parasailing is a relatively new holiday activity. As its name suggests, parasailing involves sailing through the air attached to a parachute. You have to wear a special harness, and a lifejacket, and then you are taken into the water and attached to a boat. The boat pulls you along until you are launched into the air. The direction of your flight is also determined by the small boat below, which follows a course that lets you view the coastline below. You don't have to get wet, but you can dip your toes into the water if you wish.
An emotional rollercoaster!
Parasailing offers you a truly exhilarating flight. There's a great feeling of anticipation as you prepare all the gear and get ready for launch. Then you will sense the power and speed of the boat as you are pulled along. There is a tremendous thrill when you rise gently into the air, and this excitement continues through the smooth and steady flight. Your adrenalin levels will gradually return to normal as you float back down to the shore below. All these emotions are packed into one short parasailing flight!
A truly unique and unforgettable experience
A parasailing flight lets you feel the wind on your face as you zoom through the air. You feel safe in the harness provided, and you have a sense of achievement and joy, as you realise that you are living a unique experience that most people will never have. Nothing else gives you this feeling of flying freely through the air and seeing the world the way a bird would see it.
Fantastic views of Nice
As you look down from a height of 50 metres, you will see the sea, the beach and the buildings of Nice stretched out before you. The view is spectacular, and this is one of the main reasons why parasailing has proved so popular. Parasailing flights focus on the various bays around the city, and the panoramic Mediterranean coastline. It's a feast for the eyes and a wonderful way to appreciate the natural beauty of this part of the world.
Spread your wings and fly!
Parasailing is about pushing back the boundaries in every sense. You step out of your land-locked existence into a world of freedom and fantasy. The sensation of flying relaxes your body and opens up your mind to thoughts of discovery and exploration. You can fly solo and gain a sense of achievement on your own. You can also fly with a partner, or with a small group of friends and enjoy these new experiences together.
No matter which parasailing in Nice package you choose, you are sure to make memories that will stay with you for ever.